Faculty Spotlight
Kathleen Myers studies cultural and religious geographies that impact people's ideas about history and identity.  Her work spans both the colonial and contemporary periods and both sides of the Atlantic. She first became interested in history and culture as an undergraduate at Ripon College, when she studied in Madrid for a year. As a graduate student in Hispanic Studies at Brown University, she discovered an unpublished autobiography written by a nun in colonial Mexico, which would become the basis of her first books. Dr. Myers arrived at Indiana University's Department of Spanish and Portuguese in 1986, never suspecting at the time that she would fall in love with IU, its students, and Bloomington. In her most recent book, In the Shadow of Cortés: Conversations along the Route of Conquest, Dr. Myers interviews Mexicans from all walks of life about their interpretations of the Spanish conquest and finds that their views are closely linked to ideas about contemporary U.S. geographical and cultural conquests. Her current project is an exploration of a different kind of historical route; she is studying ancient and contemporary shepherding routes in Spain, and their influence on issues of cultural identity and ecological sustainability. As a teacher, Dr. Myers enjoys developing new courses: for example, a recent graduate course, "Conquest, Colonization, and Contemporary Mexico," paired foundational texts from the colonial period with contemporary discourses about colonialism. A new undergraduate Latin American Culture course was taught as a practicum, focusing on how race and indigenous culture are portrayed to the general public via museum exhibits and popular culture. When she isn't writing or teaching, Dr. Myers enjoys time with family and friends exploring Southern Indiana's hiking routes and waterways.
Undergraduate Student Spotlight
Dan Kreider
is a senior graduating in May 2019 majoring in International Studies and Hispanic Linguistics with a minor in Latin American and Caribbean Studies. In 2017, Dan spent four months in Quito, Ecuador where he studied Ecuadorian arts, society, and politics. In the summers of 2017 and 2018, he worked as an intern for the National Immigrant Justice Center in Goshen, Indiana. Through this work, Dan developed a passion for serving the Central and South American immigrant population. At Indiana University, he volunteered for three semesters with La Escuelita para Todos where he had the opportunity to tutor Latino youth in the community, developing their Spanish and English language skills. This year, Dan is conducting senior thesis research on anti-immigrant discourse in Ecuador with regards to the Venezuelan refugee crisis. After graduation, he plans on pursuing a career in non-profit work with Latin America and the Caribbean.
Graduate Student Spotlight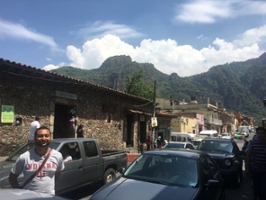 Julio Ramos Pastrana is a Ph.D. student in the Department of Economics.
This has been a great experience and one that will greatly improve the quality of my dissertation. The goal of this trip was to carry out an exploratory study to further understand how property rights at Mexican agrarian communities work. This has been done through a series of semi-structured interviews with people from academia, and the Mexican government, as well as using administrative data gathered by the Mexican government. I have spent time in the center of Mexico, specifically in the states of Morelos and Mexico City.
My stay at Mexico City has been fruitful. I have been working at the National Statistics Center (INEGI) using detailed information from Mexican agrarian communities. This data is the result of 3 census carried out by the Mexican government to all the communities in the country. Getting to know the available data has been great to plan a work schedule for my dissertation. I have also managed to interview a series of researchers and public servants which has greatly increased my understanding of the Mexican agrarian communities.
My visits to the state of Morelos provided me with firsthand knowledge of how property rights work in these communities. I managed to interact with people from these communities as well as with public servants in charge of overseeing changes in property rights. Overall, this experience has been really useful in defining and planning ahead for my dissertation. I will leave Mexico in the coming weeks with a greater understanding of the Mexican agrarian communities and a clear plan for my dissertation.
Alumni Spotlight
Christine Salinas is an IU alum and was a CLACS student from 1997-1999. After graduating, she knew she wanted to educate kids about Latin American history. She went on to design and teach elementary and middle school curriculum in Spanish and Latin American culture. After teaching in the classroom for ten years, she shifted careers to pursue education reform through nonprofit work. Now, Christine works in development where she raises money to close achievement gaps among low-income children, most of whom are Latino. She also volunteers as a Board Member of Young Dreamer Network, a nonprofit that funds high school and college education for promising teenagers in developing countries.
Among many things, her CLACS degree taught her how to write persuasively and sort through vast amounts of data. At work, she uses these tools on a daily basis. For example, when she works on a funding objective, she combs through compelling data and uses it to craft an approach that inspires prospective donors to give.

What does she miss about IU Bloomington? Mother Bear's Pizza!!