Agency through Technology: Women's Empowerment & ICT's in Alta Verapaz, Guatemala
It is 6:30 in the morning. A rooster's crow echoes throughout the street. For the citizens of Coban this signifies the beginning of the workday. It is mine too. Quickly, I gather my bookbag and decide on a walking route towards Transportes Monja Blanca, a local bus depot. Stepping out gives way to a light fog over the streets of this beautiful highland town, shattering the monotony of the all too familiar. The trail leads me perfectly towards the bus depot. A line of micros are waiting to depart, their destinations loudly announced by the drivers assistants. Boarding these tiny buses is an everyday adventure due to my height and the swift seating maneuvers of other passengers. As I wait for the departure call, I notice that people are purchasing their breakfast through the small bus windows; others examine miscellaneous objects sold by street merchants, such as hair brushes. Suddenly, the micro begins to move and we are on our way. Within fifteen minutes, I reach Talita Kumi, the space that kindly allows me to be a part of their family every day.
I have spent the majority of this summer in the state of Alta Verapaz, located in the highlands of Guatemala. My intention is to examine how women in the state of Alta Verapaz use Information and Communication Technologies (ICTs) as a source of empowerment and personal discovery. Additionally, I am analyzing the relationship between the use of ICTs and the thirty-six year Guatemalan civil war through archival research., and furthermore, whether or not there is one.
So far, I have managed to conduct observations and participant-observations within the Talita Kumi foundation. Talita Kumi defines itself as a community center, and live-in/live-out high school program. It feels much more like a city state. The program offers students a variety of development courses in areas of education, finance, computing, and social work. During my time here, I've come to the realization that this foundation is a space where narratives of hope and community are continuously emerging. Many of the young Q'echi' women who have allowed me into their lives share perspectives of learned skills as a source of self and community development. These have been shared during class and during their own community field work and work days. They have kindly included me in the process of planting organic orchards in the homes of both close and distant communities in Alta Verapaz. During a candid conversation, one of the students in the computing track explained to me how coding and computer repair serve as a stepping stone towards a university degree and perhaps, a career in freelancing.
On a daily basis, I am exposed to the diverse roles both digital and non-digital technology play in the life of each student group at Talita Kumi. For example, interned students are forbidden from owning any cellphones, while external students are allowed to have them. This has created interesting discussions on their personal use and knowledge of current technological objects and services. Some students who have access to cellphones rely on social media as a form of peer network, as a source of daily local information or cooking recipes discovery. Others who do not own cell phones rely on computers to gain access to education and entertainment applications such as duolingo and music lyric oriented websites. Non-digital technology is also a major part of the lives of students here. It is common to find students in the kitchen area using woodstoves and industrial-sized grinders to turn corn into corn flour or taking courses titled "technology of the villages", "productivity", and "home". These courses rely on knowledge, skill, and technology that is easily available in their own communities, some which is used to carry out organic agricultural orchards sprints, community workshops, and safe food handling lessons.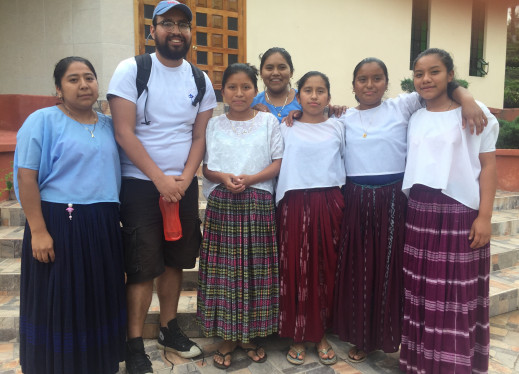 The aforementioned courses and the conversations that transpire daily uncover the juncture of digital and non-technologies in the the future of entrepreneurship for some of the students at Talita Kumi. Currently, there is a program that teaches students to create embasados (jarred preserves), pasteles (cakes), and a variety of other foods using the available technology in rural areas. The intent is to teach students skills that are useful in their own homes and communities. In fact, various students made over 200 quetzales selling "tamales" during a friday afternoon. Many of the women enrolled view this course as a possible source of entrepreneurship and economic independence. The school administration shares this mantra as well. One of the teachers in the Talita Kumi believes this to be a perfect opportunity to create an online website or service to sell the students' creations locally. In the week after vacation she will workshop this idea with the students during the "home" course. It will be interesting to see if students are receptive or have wildly different views towards this entrepreneurial approach, perhaps using other types of ICTs.
Since all students are currently in a weeklong vacation, I have decided to travel to Guatemala City to begin my archival research. During the early stages of such research, I've come across a news clipping showcasing the foundation of a transmissions technology school for the military with the aid of the Israeli government. But the most interesting source thus far has not come from a national archive, it comes from my grandfather's old book collection at home. Various readings done prior to my arrival to Guatemala mention the alleged use of a computer system in the National Palace (where the president and many government officials offices are located) for surveillance and government functions ranging from payroll accounting to national statistics studies. I have been able to find the names and models of computer systems, the structure of personnel, and a timeline of the creation of that department. These are outlined in a rare book titled Discursos by General Juan Leonel Bolaños Chavez, which was printed by the military editorial of Guatemala.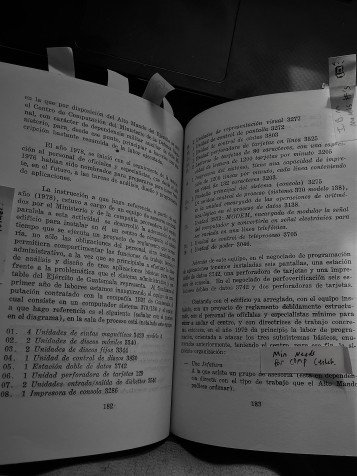 These findings have lead me to research Guatemala's use of the Israeli Kibbutz system (collective agriculture communities) during the civil war, the structure of the department of defense, and the role these technologies might have had on economic and information production across Guatemala. It remains to be seen what the effects of this technology and information were in the in the state of Alta Vera Paz.
During the next few week weeks, my field work will shift towards semi-structured interviews and a drawing exercise with the participants in the study. Additionally there will be another round of local archival research in Coban, Alta Verapaz and further volunteer work at Talita Kumi which consists of redesigning their web page.
I would like to thank the Center for Latin American and Caribbean Studies (CLACS) and the Tinker Foundation for providing me with the opportunity to further my doctoral studies during this summer.
Saludos from Guatemala.
Oscar Lemus is studying Informatics – Computing, Culture, and Society.